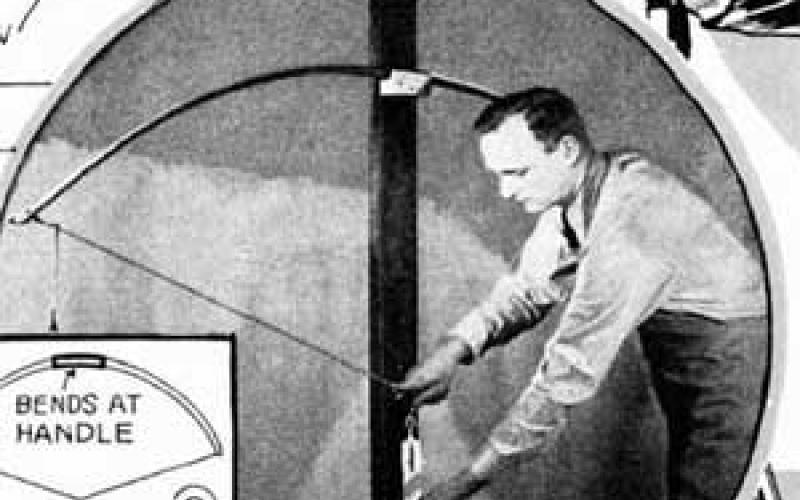 These classic archery plans for a standard hunting bow are similar to the standard bow plans, they stand out because they aim to give you more hunting information. There's info on making various blunt and broadhead arrows as well, and a discussion on the merits of flat vs. semi-flat bows.
From the plans: Hunting game with bow and arrow packs a real wallop. There's a thrill in seeing an arrow go winging toward its mark. Even a close miss is fun. So many sportsmen have adopted this sport that some states have exclusive bow-and-arrow hunting reserves where firearms are prohibited.
A bow for hunting should be as short as practical, ranging in length from 4 ft. 8 in. to 5 ft. 6 in. It should be a plain bow, able to stand a lot of knocking around.
The drawing weight need not be excessive; you can bring down the toughest game in the country, including moose, bear and wild boar, with a 45 to 50- lb. bow and a steel broadhead arrow.
The demountable type of semiflat bow described here is popular because of ease of transportation, and the knockdown handle in no way affects smooth, fast shooting.
If this is your first bow, by all means make it of lemonwood, as this compact and nearly grainless wood permits mechanical shaping without any regard to grain structure.
If you want the best, however, use osage orange or boam. Yew is good, too, although a little too soft for rough usage. All bow woods except lemonwood require careful following of the grain. Start by roughing out the back of the bow. Osage orange is perfect in this respect; just peel off the bark, and the remaining layer of sapwood, about Via in. thick, is just right...