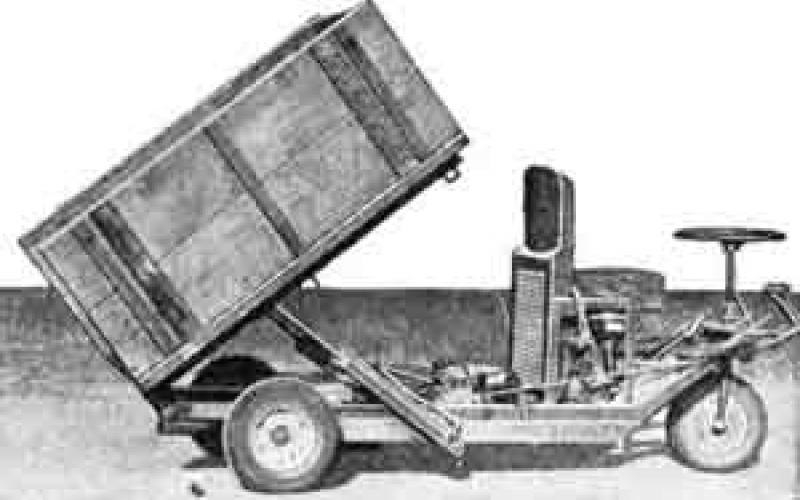 These plans are for a utility cart with a dump function on the bed.
Handy around the poultry farm, the dairy barn, in the feedlot and in industrial plants, this capable midget dump truck has the capacity for half-ton loads, weighs 600 lbs. empty and has a tread width of only 31 in.
A 3-hp. air-cooled engine drives through two standard automobile transmissions hooked up in tandem,
thus giving a wide variation in gear ratios for the heavy pulls. A power-driven hydraulic lift, separate
foot brakes on the rear wheels and a foot accelerator combine to give a degree of control equal to that of any standard dump truck.
The narrow width lets the midget through small gates and feed-bunk alleys and its ability to turn in its own length gets it around square corners and into and out of narrow driveways with a full load.
Some departures from the design as detailed are possible. A 3 or 5-hp. engine equipped with integral clutch will save building the spring-loaded clutch arrangement shown. Where the going is fairly level and there are no steep grades to negotiate regularly, a 3-hp. engine driving through a single transmission will give satisfactory performance.
Two types of side panels are fitted to the platform to provide three body types: a half box, a flat bed and a deep double With the sides removed the flat bed an be used to haul bulky articles such as baled hay, lumber or large crates With box-body half a ton of feed or fertilizer can be hauled.
Hydraulic cylinders hoist the body to the dumping position.